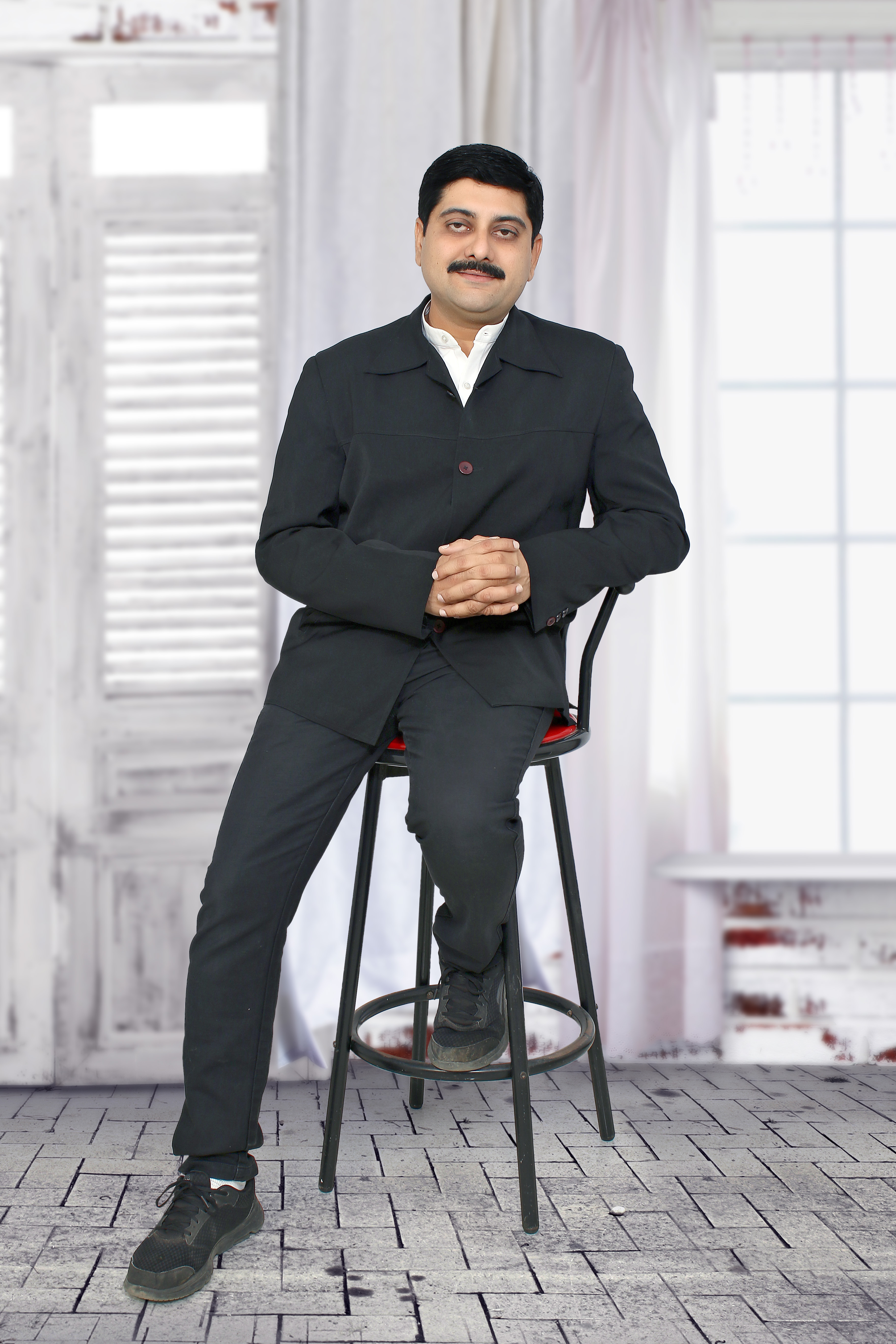 About You Instructor
My name is Dr. Ashish Nagar PT, I am a Trained NLP Wellness and Life Coach and am presently conducting all levels of training through NLP in various sectors. My concentration is on relief of Stress, Anxiety and Depression. 
I am a Physiotherapist by profession. I completed my Bachelor's in 2001 and Masters in 2005. Since then for almost 14 years I was working effectively as Physiotherapist in various rolls right from an Intensive care Physiotherapist to an Assistant Professor in a Physiotherapy College and all roles in between. Throughout my 19 years of career I have dealt with Pains and Physical Problems of thousands of People, which revealed me that most people are suffering with various physical ailments because of their Mental Stress leading to Anxiety and Depression. Further research lead me to Neuro-linguistic Programming which is a scientific way of handling the Stress we undergo in day-to-day life.
NLP helped me understand the behaviors and the patterns that lead people to Stress which over a period of time built up as Chronic Anxiety and Gradually depression. This profound realization lead me to discovery of new way of treatment of Physical pains and Diseases leading to Debilitation. Use of NLP with of years of experience as a Physiotherapist and Medical base lead me to newer horizons of effective treatment for Psycho-somatic Disorders and Psychopathic Pain.
So join me to Discover your new YOU, "The Charismatic ME!!" where you will be able to overcome trivial Health issues with ease and Discover true WELLNESS to live the life at the fullest.
Certified NLP Master Practitioner Course - Online Module
Welcome to this wonderful Basic two weeks course for learning NLP, basics, techniques, self therapy.
The Live sessions will be full of exploration and realization in regards with what's going on in your life and how this can be changed for your benefits.
The Foundation course that you get in First bonus will be having theoretical coverage of techniques to help you further understand the topics.
The Second bonus is a set of Visualizations that will help you upgrade yourselves as a person and align your Mindset for Ultimate Health.
The Third Bonus is a 3-day De-Stress Program meticulously developed by Dr. Ashish Nagar NLP for dealing with day-to-day stress. This 5 step program if followed for 6 weeks,20minutes a day will help you Prepare your Metal conditioning against day-to-day stress and save you from it's effects on Health and your Life.
The Fourth Bonus is a workbook, that you can use as your guide and quick reference for the techniques that we will be discussing.
Last but not the least, you will be getting '2-hour' consultation free by 'Me' personally where I will help you with strategies to solve your problems and clear your future vision for life.
This will be a Life Changing Session for you, I assure you this.
Bonuses Free with the Course
You get the valuefor each penny you invest with us. Including not only the Online sessions, but also availing these benefits which are actually priceless to help you lead your life with correct mindset and towards the life that want to Live with full Control.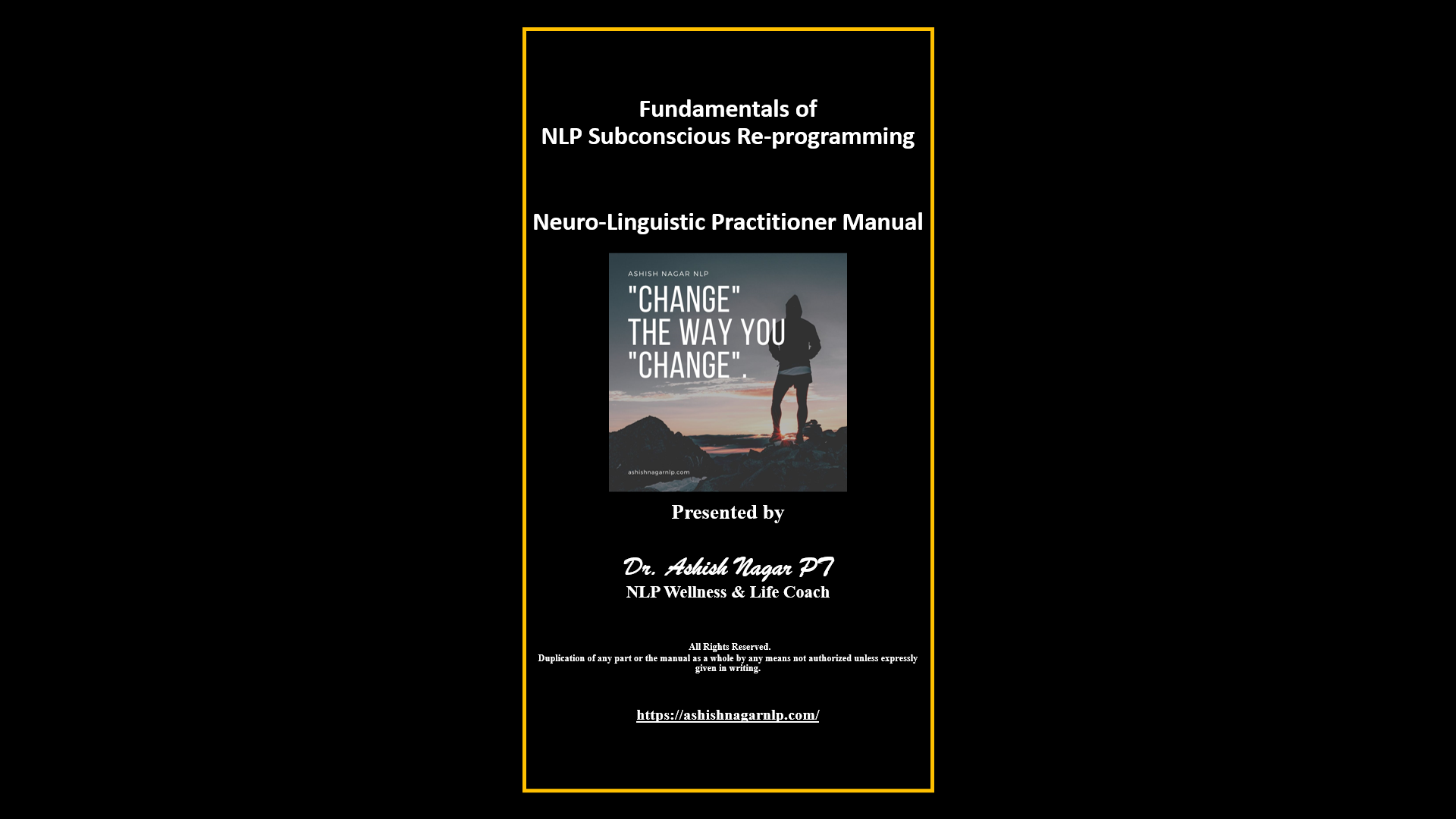 Bonus 4: Complete Workbook of the Course with all techniques and material you can refer after and during the course. by Dr. Ashish Nagar PT.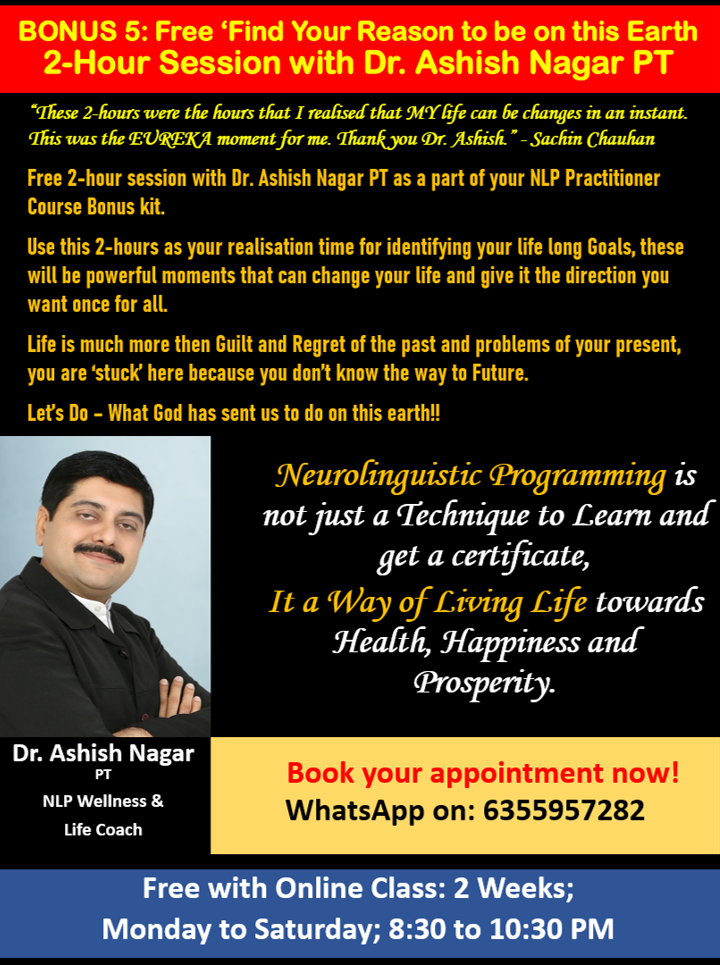 Free 2-hour session with Dr. Ashish Nagar PT
"Find your Reason to be on this Earth"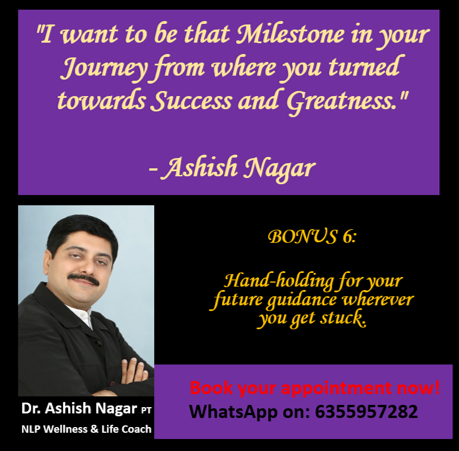 Hand- holding
"I want to be that Milestone in your Journey from where you turned towards Success and Greatness." - Ashish Nagar
I will be there to help you fi you genuinely get stuck, but not to comfort you, rather take you out if you get in the comfort zone again, till you achieve your Outcome.
Check your inbox to confirm your subscription